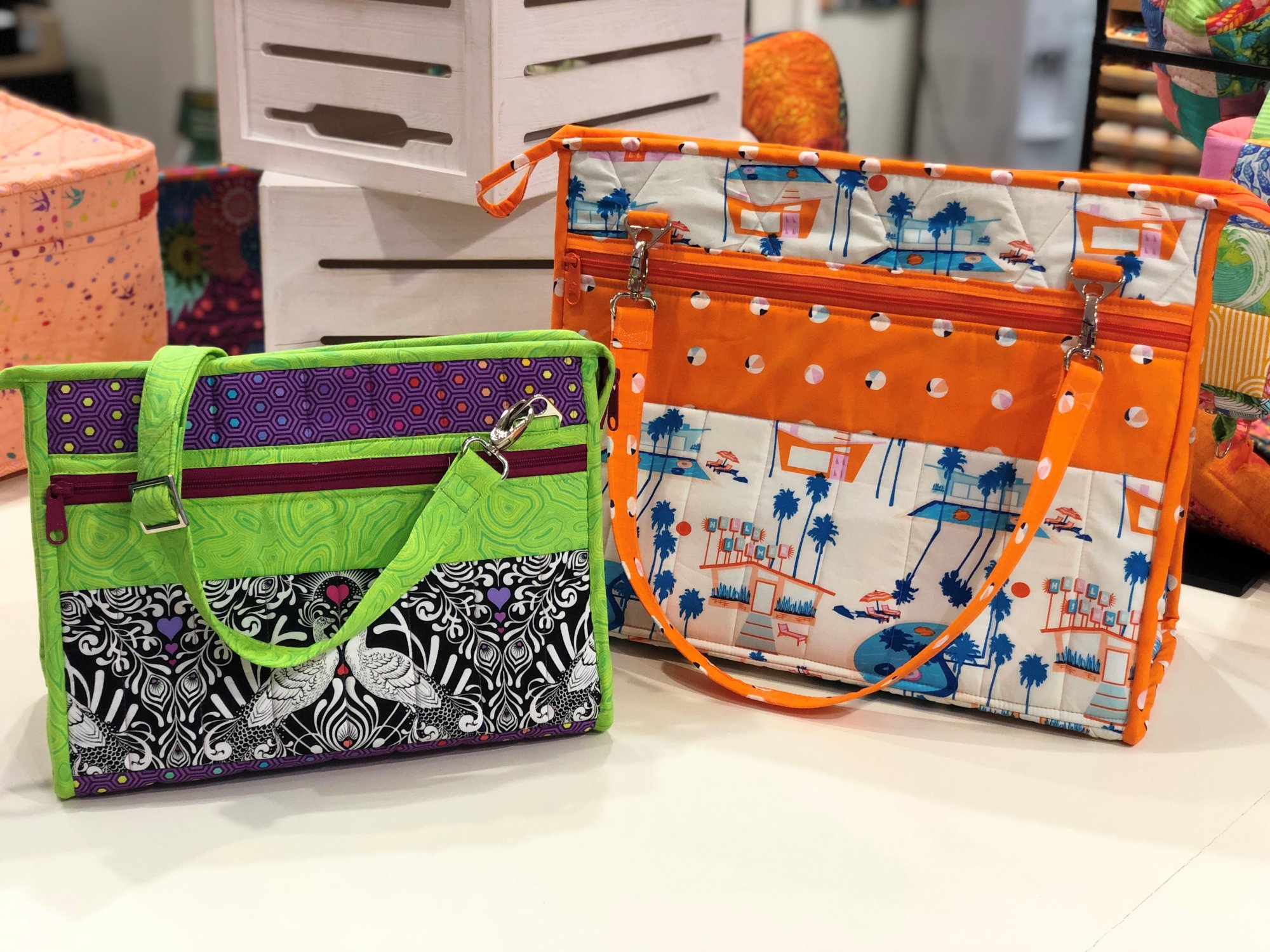 YOU WILL NEED:

A Sewing Machine in good working order with a zipper foot or narrow all purpose foot, pins, snips, scissors, rotary cutters and any other tools that you like to have handy when sewing, marking tools, ruler

Recommended tools: stiletto, wonder clips

Pattern: Take a Stand, a By Annie pattern.

Materials amount will vary depending on the size you choose. Please refer to pattern for all supplies requirements.

Main Fabric, Lining Fabric, Soft & Stable, Fusible Interfacing, Mesh Fabric

Notions: Handbag zippers, Strapping, Hardware, Fold-over Elastic, Thread, etc. (Details on pattern back)



If you would like to make the two handle variation as shown on the shop sample, you will need an additional 1/8 yard of the accent fabric, 1.5 yards of polypro strapping and two additional sets of triangle rings and lobster clasps.


PRE-CLASS PREPARATION:
In order to have the maximum time for assembly during class, please cut out the fabrics and interrfacing and prepare the "quilted sets A & B" before the class. I recommend straight lines of quilting, parallel to the long sides of the pieces which add structure to the bag. Most of the quilting on the main body of the tote will be most visible inside the outer pockets and inside of the bag.

*You may omit cutting out zipper pulls and use ribbon or purchased zipper pulls, if you desire.

**Wide handbag zippers make zipper installation go much more easily than regular zippers when working with the thickness of the soft and stable.

**AGE MINIMUM OF 16 YEARS FOR THIS CLASS

By registering for a class, you acknowledge and agree to these policies.
| | |
| --- | --- |
| Skill Level: | Beginner |
| Skill Details: | Age Minimum of 16 years for this class. Must have sewing experience with multiple layers, fabric types and binding. |
| Requirements: | Please read the Pre- Class preparation thoroughly. Call the Shop if you have questions. |
| Instructor: | Jan Durham |